I used to have hundreds of Grateful Dead tapes. I spent hours dissecting the finer parts of Dark Star and the Other One, waiting for Phil to drop the bomb, following the drummers like twin dragons as they weaved in and about the tsunami of sound pouring from the amplifiers. I designed my own J-cards and printed them on the copy machine at work. To build my collection in the days before the internet made everything easy, I would trade tapes through the mail and in person with other collectors. My list wasn't limited to just the Dead, either - I collected anything that was interesting, anything that was supposed to be heard live and could not be captured on a studio recording. I loved the Dead, I still do, and I was especially fond of Pigpen's tunes.
Then last week as I was driving in my car, it hit me, casual as you please: out of all those times I listened to Pigpen rap his way through "Lovelight," which is obviously more times than I could recall, I
never once
saw a film of the spectacle in progress. Hunh? Pig was the centerpiece of the Dead's live show until his health started to deteriorate after 1970. His humor and inspired conversations with the crowd, often goading perfect strangers into dancing with each other, was a vital part of the stage show. On many tapes you hear the audience shouting for him, heckling, eager to get up and boogie after a lengthy instrumental freak out.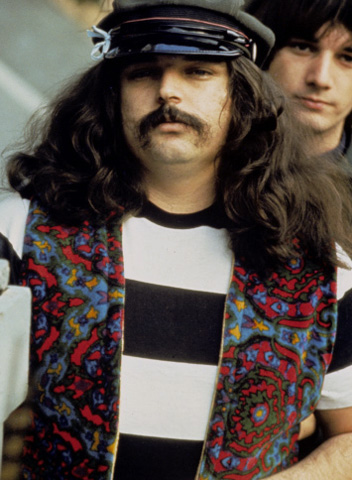 How did I miss this? Why had I not sought this out before? I must have, at some point, had a gander of Pig in progress. But I couldn't remember doing so.
For the rest of the day, I felt kinda spaced out.
I cruised around YouTube and had a look at some choice clips of Pig in his prime. While some were eerily familiar, I couldn't say beyond a reasonable doubt that I had ever seen any of the clips before. In the interest of helping other people avoid the same confusion I experienced at the corner of 400 S. and State,I thought I'd post some of what I found. I wonder how many Hohner enthusiasts are also Deadheads? I smile just thinking about it.
Please enjoy.
Here is "Turn on Your Lovelight" from Woodstock on 16 August, 1969. It was raining, Bob Weir was nearly electrocuted, wind was howling, everyone was cold, and hardly anyone felt like dancing. That's a textbook recipe for an unenthusiastic crowd. But don't deapair - just add Pigpen, shake, and you've got a party!
If Pig can't make 'em dance, then they can't be danced at all...
"It Hurts Me Too" was performed on 17 April 1972 in Copenhagen, Denmark. By 1972, hard drinking had reduced Pigpen to become a shadow of his former self. He passed less than 12 months later.
Rest in peace, fella.